We Are "THE PIE"!

Our Mission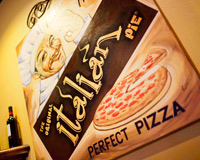 Through innovative team management and highly motivated employees, we seek to be the leader in quality and service in the products we offer. As we grow, our company will provide opportunities for our employees and management to share in increased responsibilities and rewards. We will give back to the communities in which we operate through innovative programs that will serve as a positive example of our commitment to community and our company.
Company History
The Original Italian Pie was founded in 1992 when the first restaurant located on Bienville Street in New Orleans, La., was opened. Italian Pie quickly won over the hearts and mouths of those seeking flavor combinations above and beyond sausage and pepperoni. By 1993, there were three New Orleans restaurants, each offering a delicious menu of gourmet pizzas, salads, sandwiches and calzones.
In 1997, the Italian Pie Franchise was born and locations began to open throughout the greater New Orleans area. Time and again, New Orleanians would vote Italian Pie's gourmet pizzas as "Best Pizza" in various independent diner surveys including Gambit's "Best of New Orleans" and AOL's "City Diner Guide." Locals began to affectionately refer to the restaurants as "The Pie." The menu continued to expand, and The Pie was soon known throughout the city as the place to go for authentic Italian specialties with a New Orleans kick served in a casual atmosphere.
In 2001, The Pie concept began to expand outside of the New Orleans market across the Gulf South with locations spread from Pasedena, Texas, to Raleigh, North Carolina. The company continues to grow, with numerous new franchises in various stages of development, and folks continue spreading the news that You Gotta Try The Pie…..The Original Italian Pie!
In 2013 The Original Italian Pie added its 2GO model in New Orleans. The next 2GO model is scheduled to open February 2015 in Chalmette, La.
Here's Some "Food For Thought"

The Original Italian Pie is dedicated to our community and in nurturing its best assets, our children. Through our Food for Thought, Fundraiser Nights and Rewards Program, we would like to offer our hand as a partner with your school or organization.
Fundraiser Nights

Help raise money for needed programs, materials or equipment by setting up a "Fundraiser Night" for your school or organization at Italian Pie! On that night, anyone mentioning your school or organization's name at the restaurant or when calling in a carry out or dellivery order will automatically help raise money for your shool or organization.



The original Italian Pie will donate a generous percentage of all proceeds from these orders to your school or organization! In fact, you can set up several "Fundraiser Nights" throughout the year to make the most of this fund raising opportunity.
Rewards Program

Children respond to positive reinforcement. And what kid wouldn't love to get free pizza? Reward your students for positive behavior with free kid's pizza certificates.

These certificates can be used for Honor Roll, Reading Programs, Spelling Bees, Science Fairs… you name it! We'll supply you with as many of these certificates as you'd like.

See the manager of your local restaurant for details.